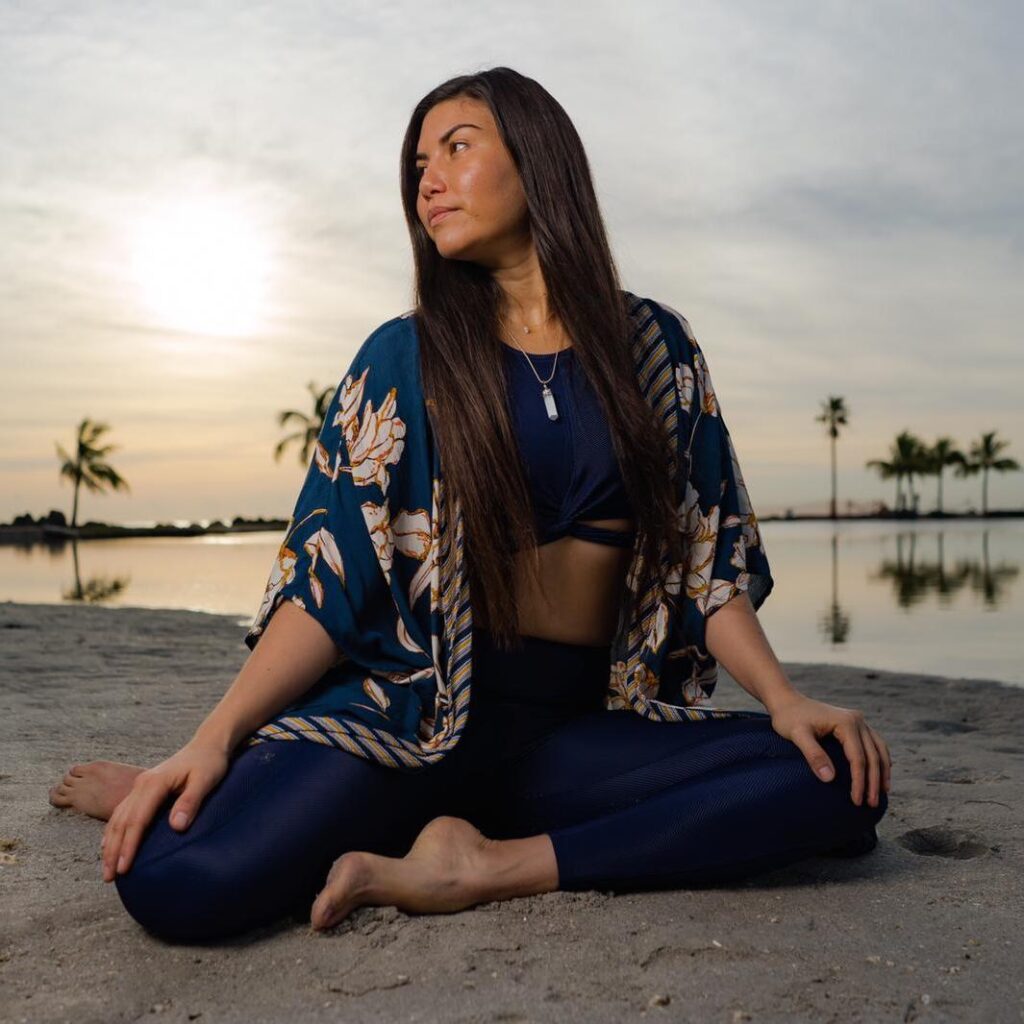 Gina Avellan is a Breathwork practitioner and Medicine Woman who helps people achieve personal transformation through simple, but specific breathing technique, and also guides her clients in rewiring and reprogramming their subconscious minds. Her ability to guide her clients to such personal transformation stem from her own personal journey. 
Before devoting herself entirely to her practice, Gina obtained an MBA and worked in surgical robotic clinical sales. She trained and supported her surgeons in the operating room. Her previous career exposed her greatly to western medicine, while her personal growth developed wisdom and proficiency in several healing modalities. 
Gina ties together spiritual and physical health with the understanding that these two elements can only align from deep personal inner work. Through her own exploration with medicinal fungi and plants, Gina has developed her own treatment philosophy. She ties together spiritual and physical health with the understanding that these two elements can only align from deep personal inner work. Her connection to these medicines and innate ability to communicate with her ancestors have proven to be her best training ground. 
Gina is a certified Health Coach, Breathwork Facilitator, PSYC-K and trained Gottman Method Practitioner, but most importantly she is an embodiment of her teachings. This unique collection of skills and wisdom has allowed her to emerge as a dynamic healer and medicine woman who is able to support those in their own quest for conscious living and personal expansion.
There are a lot of self-proclaimed "Gurus" out there, that is NOT the case with Gina and iJustBreathe. Gina is THE REAL DEAL! Breathwork changed my life. It has slowed me down and shown me things I was missing, during my failed attempt at expediting life. I am eternally grateful to Gina and the work she does. I'm not just recommending her, I'm saying that it is an absolute MUST that you take one of her classes ASAP, and give breathwork a chance.
This experience.. was literally life changing. After the BreathWork I felt much lighter and a sense of stillness. I recommend anyone that is feeling in a funk or emotionally unbalanced to attend this BreathWork it's amazing how your breath can make you feel in alignment with your body. Namaste.
I love breathwork with Gina! Her knowledge and respect for this valuable tool of growth makes me feel safe and allows me to fully let go and sink into my experience. I never knew my breath could be so powerful and how I can unlock the natural healing intelligence of my body until I had a session with Gina.
I am so grateful that I got to attend this workshop. I thought we were simply going to engage in regular breathing patterns combined with meditation but what I experienced was groundbreaking. The type of breathwork that Gina teaches is a very powerful method for releasing old energy and blocks in our emotional system where we feel stuck. What seemed like 15 minutes of breathing was actually 1 hour and 20 minutes. Time collapsed entirely. It was such a transformative experience from beginning to end. I felt myself releasing heaviness from several past instances that marked me as a child and adolescent. I came out of the transcendent state knowing intuitively that I had released something in my lower chakras that had been holding me back from moving forward into my life boldly. Thank you Gina for this incredible experience and gift, and thank you Modern Om for making this type of revolutionary cutting-edge (but really, ancient) medicine accessible to all.
My overall experience with Gina's breathwork session was extremely healing. The techniques and tools she provided us with are a part of us. She taught us a practice with our own breath and led us through a powerful inner healing that has brought a lot of change into my daily life. I highly recommend sitting in a session with Gina and using these breathwork techniques !
I have done a lot of self-development work over the years through many different modalities, but the work I have done with Gina is by far the most transformational that I have ever had. When I started doing work with her, I was able to access deeper parts of myself , which led me to greater levels of awareness and balance. She provides a safe space for an introspective journey through breath work and then couples it with a scientific explanation for what is happening during the process. Her understanding of how and why emotions are stored in the body was very helpful to release those old patterns and thought processes. It really helped me integrate the experience into my daily life which took my career and relationships to another level. I am very grateful for the impact that she has had on my life and the role she has played as a teacher. It's really been an honor to do the work with her. I would highly recommend her to anyone looking for transformation, growth, or a greater degree of self-awareness. If you are reading this, I hope to see you in class one of these days!